Lomond Hill Runners (Lomies)
Welcome. We are a small hill running club based around the Lomond Hills of Fife. Why not come along on a Tuesday night and join us for a run.
---

---
Race Report - The Lairig Ghru Race 2022
27th June, 2022
Most race days or training days only require one trip to the toilet in the morning. The Lairig Ghru is a three'er. Weeks of preparation, running long distances and logistics had fallen into place in the way Lomie events do i.e. somehow. And five Lomies gathered in Braemar on a sunny morning with a light cooling breeze. Weather forecasts warned of showers later and high winds high up.
The general consensus appeared to be that everyone in the race was going to "take it easy", as if the Lairig Ghru would allow that. Collective injuries being carried by Lomies included a knackered knee, bruised upper foot and a chest infection caused by covid. So everyone was in tip top form.
Race organisation was excellent, with chipped race numbers, and after a briefing, interspersed with occasional shouts of "Car!" as confused tourist made their way towards Linn of Dee, we were off, taking it easy, on the road section. Aidy taking it the least easy, followed by Cammie with his foot, myself and Iain with his knee, and then Martin with his chest. 3 Miles of road takes you Marr lodge a group of supporters shouted encouragement by singing "the bonnie bonnie banks of loch Lomond". Wrong Lomond but we appreciated the sentiment. Next, after my first jelly baby, it was a short road section to the landrover track leading to the Derry Lodge. Still relatively smooth running, but then arguably the Lairig Ghru race doesn't start until you've passed the Derry Lodge. At this point Martin joined me and Iain with Daniel (future Lomie). We ran together as far as Luibeg Burn or rather we came together again at Luibeg Burn as I had started to fall back a bit (I thought we were taking it easy).
After the Luibeg Burn you enter the Lairig Ghru and the race begins proper, the path becomes rougher and the race becomes attritional. Picking your way over the rock strewn trod, passed the Corrour Bothey , you start the gradual ascent toward the Pools of Dee and the boulder field so feared by road runners. However, if you've recce'd the route you know there's a few places where, by going over the boulders, you can cut some corners and save a couple of little climbs.
At this point Iain and Daniel(Future Lomie) were still in sight. The forecast wind carried showers was at our backs as opposed to in our faces which was something, although I was glad to have opted for the long sleeve top under the vest.
As we emerged from the boulders and started descending, my right calf decided it was high time we stopped for a break while it "threw some shapes". Disappointing after regularly eating, drinking and taking gels.
After a short hobble I progressed to a hobbling run and the more you descend the better the path gets so a running rhythm of sorts returned. The regular showers had penetrated my vest and running top so the jacket went on as I approached the trees, where it would get warm again.
The trees section, Rothiemurchus Forest, is where extra care is needed for roots and the occasional rock waiting to catch the unwary toe of tired legs. The path improves the further you descend until it levels off and becomes a flat, never ending path through a corridor of trees. Time for any remaining gels or jelly babies to be consumed and washed down with the last of your Vimto.
Rothiemurchus Forest spits you out at Coylumbridge and from then on it's "only" two miles of road to the finish, just keep going. Across the old bridge and right passed the pub on the road parallel to Aviemore High Street on the other side of the tracks. After what seems altogether too long the finish hove into view, which meant I had to pick the knees up for the big finish. An enthusiastic bunch of Lomies were there to cheer me in, so there are some advantages to being last Lomie home.
Collected my snazzy wooden medal and then a little angel appeared with a bottle of beer and a bottle opener, miracles do happen, I could have wept.
A classic, but tough race which crushes dreams and laughs at estimated times. Thanks to Deeside Runners and the marshals on the course.
Dave T.
---
Tuesday Training (14th June 22) - Lomies @ Elie
19th June, 2022
No change on the Chain walk
A smaller group of Tuesday devotees headed East to Lower Largo on a beautiful still evening with superb views across the Forth. With the tide going out it was suggested that we tackled the chains from West to East but this was rejected by Uncle Gordon as being ridiculous, so we resorted to the usual long beach run to Shell Bay, a large number of dead sea birds were seen having succumbed to the Avian flu on the go. When we finally reached the far end of the chain walk, a bank of seals far out in the Forth was heard barking at each other combining with many seabirds on the cliffs to produce the soundtrack to the evening.
Having survived a relaxed chain walk we returned to planning future runs in the Station Inn back at Largo. Fantastic Evening.
Laurie
---
Lomies Pub Run 26 February 2022 10.00 ish
28th February, 2022
Six Lomies gathered at Inverkeithing Station for the delayed 2022 Pub Run to Kirkaldy, calling at Dalgety Bay, Aberdour, Burntisland and Kinghorn, arriving Kirkaldy sometime. Two Iains, two Johns, a Cammie and a Dave, set off to the Compass at Dalgety Bay via Letham Hill Wood for some early mud. At the Compass by 10:45, but disaster, beer not served until 11! What to do? Was the pub run doomed before it began? Improvise, adapt, overcome, pop across the road to the petrol station with an M&S and get two 4 packs of tinnies. Appetizer consumed back to the Compass at precisely 11.00. Back on track. At this point a futuristic flask of Laphroaig appeared.
To Aberdour via the contaminated beach and an educational tour of wartime buildings on Braehill. Into the Forresters Arms where we met an old friend of the club, but sadly, no shortbread or gingerbread today. Onward, to Burntisland, the Dour Burn Bridge was down, no entry, diversion in place. Suggestion noted. Further down the path we pick up a spare Lomie, Laurie joined us and now we were 7. To the Silver Tassie for a pint of freedom and the team spokesman explain to bewildered locals what we were up to. At this point Binn Hill is suggested, (Fraser was not present?) what a daft idea for a hill running club on a pub run! Sometime later the two remaining tinnies are consumed on top of Binn Hill.
Downhill all the way to The Auld Hoose at Kinghorn next for a pint of Auld Hoose Smooth Ale, the news from Murrayfield wasn't great, but there was a pirate ship, so it's all swings and roundabouts. Long stretch to Kirkaldy now on increasingly tired legs as the light starts to fade. Fatigue was telling as we didn't even stop to ignore the "do not enter" sign at Seafield Tower! The Penny Farthing was the first scheduled stop at Kirkaldy, but it was busy so across to O'Connells for Guinness, curly chips and too much salt and vinegar, awesome. And then things went a bit awry, Betty Nicolls should be next, with an optional loop of Ravens Craig Park, but a suggestion was made. Dysart is at the other end of Ravens Craig Park, and there's a pub there. Ridiculous! Ludicrous idea!
Sometime later we emerged out of the gloom from Ravens Craig Park and to Baxters in Dysart, where appropriately Edwin Starr was on the jukebox. Pints consumed and standard explanation given to confused locals. The run back from Dysart to Kirkaldy and the final stop, Betty Nicolls, seemed to take a long, long time, darkness had fallen and spirits were now flagging. The final pints were consumed, the flask was finished and those who had inexplicably carried a change of clothes with them, put them on. At some point we had lost Laurie, possibly two pubs ago, something about taxi duties. Addendum. Eddy's Takeaway, Kirkaldy, purveyor of the finest running cuisine. Chips n cheese was the favoured repast, yours truly ordered a donner. The aroma of which I was happy to share with the disconsolate rugby fans on the 19:23 from Kirkaldy to Perth.
Dave T.
---
Tuesday Training (25th Jan 22) - Lomies @ Burntisland
27th January, 2022
Huv the bin min bin min?
Proper Fife expression for our lovely evening wander, with our route guide and special guest appearance, Gus Bowman.
Straight up Burntisland Binn over to Stenhouse reservoir and Dunearn Hill, the infamous sofa, and an undulating return route with lovely night time suburban views over the Forth. Concluding with refreshments in the Silver Tassie. A really nice evening.
Iain Simpson
---
Race Report - Feel the Burns 2022
19th January, 2022
What an absolute cracker of a day it was for both Iain and myself at the Feel the Burns race on Sunday. Crisp January sunshine was what we got and when we could take the time to look around the vistas over the Border hills were stupendous.
Feel the Burns is an approximate 13 mile circuit which after the initial pull up and over Peat Law to the Three Brethren then follows the Southern Upland Way for around 4 miles until it meets up with the Minchmoor Road. The high point of the race is Broom Knowe at 523m which you cross just before you come to the Minchmoor Road.
The Three Brethren are a trio of massive, solidly built cairns which date back to the 16th century. With the conditions on Sunday the views from it were utterly superlative. The Minchmoor Road was at one time a major route across southern Scotland and is a route that has apparently been in use for over 800 years.
The descent down the Minchmoor Road to the old SYHA hostel at Broadmeadows is a real fun descent of approx 2 miles. This is then followed by the sting in the tail ascent of Foulshiels Hill before the winding descent back to the finish.
I have to reiterate again that it was an absolutely fabulous day which the 253 runners enjoyed. The winners were Eoin Lennon (01:30:25) and Morag McLelland (01:52:47). The Lomie results were Iain Thomson (02:04:30) and Gordon Pryde (02:16:24).
Gordy
---
Tuesday Training (18th Jan 22) - Lomies @ Saline
19th January, 2022
In direct contravention of Lomie Rule 1c, we all followed Gordy on one of his favourite routes up Knock Hill and Saline Hill. First, a loooong run up a road, lane and then farm track, a quick loop of a barn, through corresponding farm mud, and onward up the track. Warily, we passed some cows, through corresponding cow mud, until we got to the next, of many, gates. You have to watch cows, you never know when they're going to pounce. A tempting option was offered, "do you want to do Knock Hill?", might as well, so up onto the hilly Easter Cairn Hillfort and then, an inexplicably long descent, over fences, possibly electrified, a ditch and then a steep climb to Knock Hill summit and a new trig! Stay away from the light. A fast descent back the way we had come, ish. Fence, ditch, fence, fence. Back to the hillfort where we picked up a stray Lomie. (Note - finishing with more Lomies than we started means we can afford to lose one on a future run, result)
Up to the top of Saline then downhill - fence, gorse, fence, fence, drop, burn. And this is where the night got interesting. A muddy, sparsely wooded bank, mere metres from the road and salvation. Even Mudclaws struggled, if you stopped running you slipped serenely back to the bottom. Like tough mudder, but free. After much hilarity we gained the high ground and obviously spurned the road, sticking a narrow trod, slipping and sliding back to Saline. Then to the No.1 Goth refurbished Kings pub Kelty for refreshment and discussions about The Burdens.
Gordy, Me, John, Iain, Iain, Iain, Cammie, welcome Steven and, eventually, Laurie
Dave T.
---
Tuesday Training (4th Jan 22) - Lomies @ Glenvale
4th January, 2022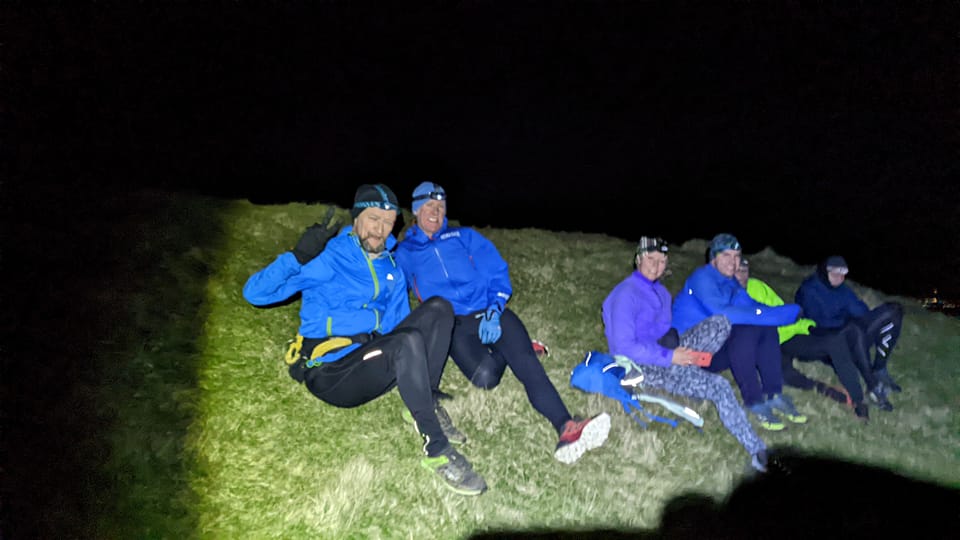 Hardcore Lomies out tonight.
A bitterly cold wind got us moving promptly at 6.30pm. Off up Glen Vale and over onto Bishop Hill before taking the less obvious route back Eastwards over to the pulpit and after a very quick debate on whether we should take in an ascent of West Lomond, we went back down Glen Vale.
Iain Simpson
---
Tuesday Training (7th Dec 21) - Lomies @ Norman's Law
7th December, 2021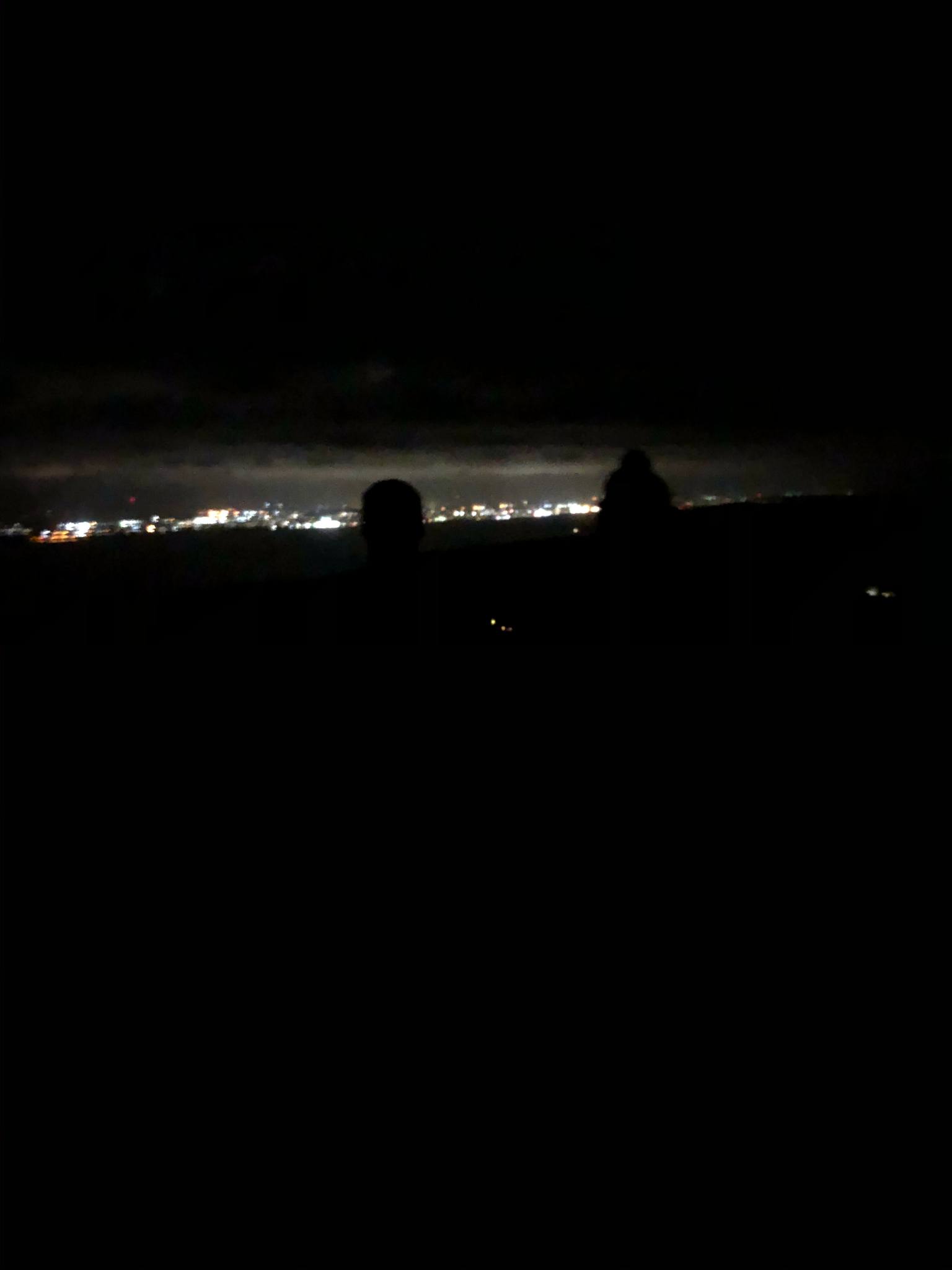 Barra and Badgers. A lomie trio braved Barra and enjoyed a circuit from Luthrie over Normans Law. On the track out a badger jumped out of the woods and accompanied us for a short while.
Gordy
---
Tuesday Training (30th Nov 21) - Lomies @ Pitmedden
1st December, 2021
The 7 runners met in the woods. The clear air cold and crisp. Stars sparkled through gaps in the trees matching the diamond like sparkle of frost on the ground. Meanwhile, at Pitmedden Forest car park west, it pished down. Due to some weird anomaly you always feel like your running uphill in Pitmedden with occasional muddy rooty descents. At no time did I know where we were in Pitmedden other than there was a trig point about halfway. Rain, mud roots and the occasional fallen tree were the order of the night, character building. Refreshment and reminiscences afterward at The Abbey pub Newburgh, refreshingly cool and airy. (Abernethy was closed). In attendance Dave, Iain T, Iain S, Cammie, Martin, Aidy and Alan, who decided sensibly to stay on the main path and who we never saw again.
Dave T.